---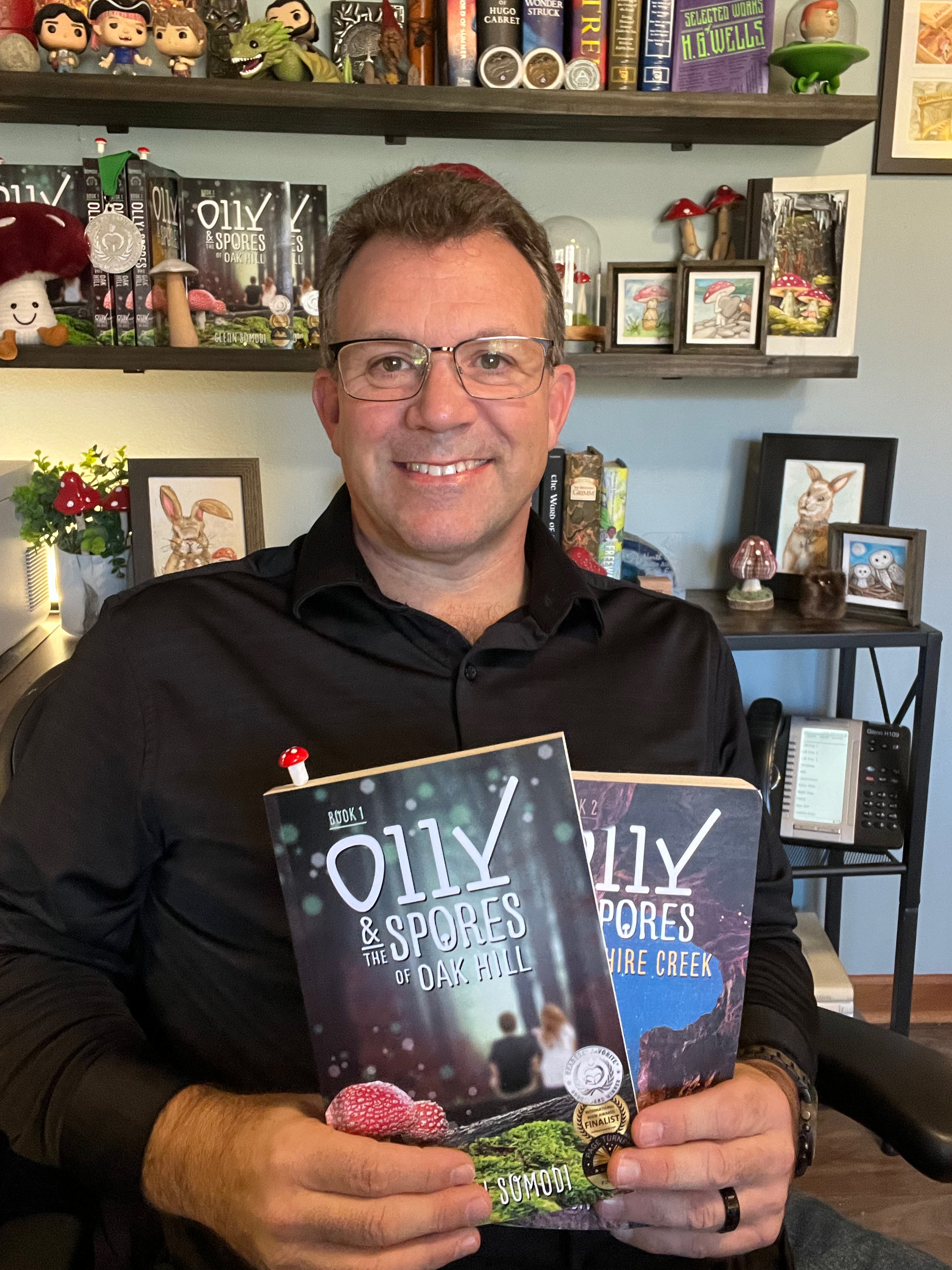 Glenn Somodi of Brunswick, Ohio
Glenn Somodi is an American author who writes his stories in the short space between lying down and dreaming. The stories are written over many nights, replayed, and rewritten in his head for enjoyment. His mission is to find anyone who enjoys reading the stories as much as he enjoys creating them.
He is a proud graduate of the E.W. Scripps School of Journalism at Ohio University in Athens, Ohio. His paying job is as a partner at EYEMG.com, LLC in Akron, Ohio, a website development company.
He was born in New Brunswick, New Jersey, raised by a schoolteacher and a mechanical engineer in Olmsted Falls, Ohio, and has resided in Brunswick, Ohio, for most of his adult life.
He has a patient wife whom he met at Ohio University in 1989. He also has three beautiful children that are his favorite creations. His coworkers include three cats and a dog – a Siamese tabby named Nala, a Chantilly-Tiffany cat named Coco, a Maine Coon named Josie, and the loudest coworker is Beckham, a Yorkshire Terrier. All five share office space for the entire workday.
Olly and the Spores of Oak Hill is the first book of a series of adventures for our main characters, Olly, Ember, and their best Spore friends, Cremini, Bella, Truffle, and Magpie.
Interesting Facts
Started working on computers at 11 years of age - first computer was a Texas Instruments TI-99/4a
Won the national choral award, but gets stage fright singing in front of people
Co-directed a student summer theater group
Always thought he would be a movie director like Steven Spielberg or George Lucas
Big Goonies and Star Wars movie fan
Worked on his high school yearbook team, often adding illustration and designing layouts
President of the student American Advertising Federation chapter at Ohio University
Directed a weekly local television show, Friday's Live, in college
Was an advertising student when advertising layout changed from conventional paste-up to desktop publishing
Worked in Manhattan as an Intern and lunched with Ally Sheedy of The Breakfast Club and delivered cold coffee to Jane Curtin of Saturday Night Live
Minored in Spanish at Ohio University, managed the Spanish edition of the Kmart Suan Juan newspaper inserts right out of college
Learned to use the first Macintosh computer (Mac Classic) to do logo design and desktop publishing
First resumé was animated and interactive, and was distributed on a 3.5" hard disk
Joined an advertising agency, Malone Advertising of Akron, Ohio, in 1993 to teach their art directors how to use desktop publishing systems
Set up one of the first broadcast-quality desktop video editing suites (Avid Media Suite Pro) in an ad agency in northeast Ohio
Built web pages for Compuserve and America Online (AOL) before the World Wide Web was popularized
With the introduction of the World Wide Web, started an interactive company, InVision, in Akron, Ohio. Created interactive disks, CD-Roms and Websites
Created over 200 websites in his lifetime, for companies like Ford Motor Company, Audio-Technica US, Nordson Corporation, and many children's hospitals
Married for almost 30 years and has three children - oldest daughter, Kylie, is a speech pathologist in the schools in the Dayton area. Middle child, Chase, is a physics undergrad/material science engineering Phd student at Texas A&M. Youngest daughter is Brielle, a marketing strategist for student engagement at Bowling Green State University.
Partner in EYEMG, a web development shop and data center, for over 20 years
Likes to write, paint with watercolor, create miniature dioramas, and create book cutout art
Enjoys working on set designs for high school plays
Coached boys club soccer teams
Helped coach both boys club and girls Junior Olympic volleyball teams
Was in the cub scouts as a child, and volunteered in the Civil Air Patrol (Air Force Auxiliary) as an adult
Was the Civil Air Patrol commander of the Great Lakes Region Ohio 219 Medina Skyhawks composite squadron
Created the 75th anniversary logo for the Civil Air Patrol - a patch worn by many in the Civil Air Patrol
Loves to have pun wars with his family over texts
Debut book has won several awards and accolades: 2023 Silver Book Award (Readers' Favorite International Book Awards), 2023 Page Turner Award (Shortlist), 2023 International Book Awards (Finalist), The BookFest Award Winner (Third Place).
Loves to play any sport but especially pickleball, volleyball, racquetball, dodgeball, and soccer
Has been working toward creating a series of moving Christmas-themed dioramas to display as a show around the holidays

Follow me on social media: